Forecast for 9 June 2015 - 11 June 2015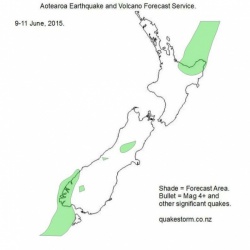 Click to Enlarge

Quake activity may increase. Mag 4+ risk areas are East Cape, Bay of Plenty, Urewera, South Clarence, North Canterbury, Fox Glacier, Glenorchy, Fiordland.
Mag 6+ risk areas are Kermadec Islands, Tonga, Fiji, Indonesia, Philippines, Southern Japan, Sea of Okhotsk, California, Southern Mexico, South of Titicaca, Nepal. Quakes may build strongly on 11 June. The Western Pacific may receive a big push. Lunar modulation may center quakes near low tide on 11 June. Global volcanoes may become active. Sinabung, Cotopaxi, Colima, Pangai, Shindake, Hakone, Indonesia. NZ volcanoes quiet. A new forecast will be posted on 11 June. See Facebook link for NZ and Pacific forecast maps. Update 9 June. Galapagos Islands are now added to volcanic risk areas. Update. 11 June 1130NZST. The forecast period is extended to 14 June. Southern Kermadec Islands, Northern Japan, Marianas Islands are now added to Mag 6+ risk areas. Update 14 June. The period is now extended to 15 June. Summary. This was a very difficult forecast period. Mixed success. Many Pacific areas were forecasted and some good location success. The Pacific was very active. Many Mag 5 quakes. NZ activity came late but good location success including Glenorchy (Mt Earnslaw 3.8) after the period. Volcanoes were very hot during the period. Sinabung erupted on 13 June, causing thousands of locals to move out in a hurry. Bulusan (Philippines), Asama (Japan) erupted on 16 June in the Western Pacific hotspot. There seems to have been an undersea eruption up Tonga way 14-16 June, maybe Pangai. 5 June. Kinabalu 6.0. 8 June. Japan 6.0. 9 June. Wanaka 3.9. 11 June. East of Kaikoura 4.8, South of Lake Titicaca 6.0, Japan 5.7, 5.8, 5.3; Kermadecs 4.9. 12 June. Tonga 6.0. 13 June. Fox Glacier 3.2, Auckland Island 4.9, Kermadecs 4.7. 14 June. Te Anau 4.0. 15 June. Northeast of Christchurch 4.0. 16 June. Fiji 6.0, Kermadecs 4.9. Summary maps on Facebook link.

Content © Roary Arbon 2013 - 2016
Website Design by Go Tech.