Forecast for 26 June 2015 - 28 June 2015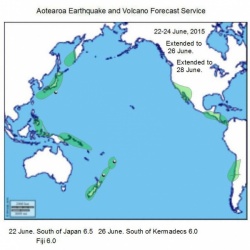 Click to Enlarge

Pacific Forecast. The forecast period is extended to 28 June. All magnitudes and risk areas are unchanged from 22 June. Volcanic activity may increase. Japan, Sinabung, Cotopaxi, Pangai. NZ volcanoes quiet. Volcanoes may go quiet after 30 June.

Content © Roary Arbon 2013 - 2016
Website Design by Go Tech.