Forecast for 5 July 2015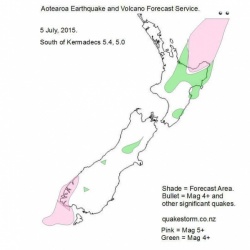 Click to Enlarge

Quake activity may increase. Mag 4+ risk areas are Rotorua, Taupo, Taumarunui, Gisborne, Hawkes Bay, North Wairarapa, South Clarence Valley, North Canterbury, Fox Glacier, Wanaka. Mag 5+ risk areas are East Cape 3pm, Bay of Plenty 3pm, Fiordland 8pm. Mag 6+ risk areas are South of Kermadec Islands, Japan, Vanuatu, Java. Lunar modulation may center quakes around low tide. Volcanic activity may increase. Sinabung, Raung, Hakone. NZ volcanoes quiet. Summary. South of the Kermadec Islands are rumbling. All Pacific forecasted locations showed pickup today but no Mag 6. NZ locations were quiet. Volcano monitoring Services report eruptions throughout Indonesia.Raung, near Bali has cause flight travel disruptions. Sinabung is very inflated. Batu Tara and other Indonesian volcanoes are erupting. 5 July, South of Kermadec Islands 5.4, 5.0, Japan 5.3, Vanuatu 5.3, Java 4.6

Content © Roary Arbon 2013 - 2016
Website Design by Go Tech.