Forecast for 7 July 2015 - 9 July 2015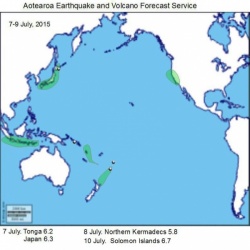 Click to Enlarge

Pacific Mag 6+ risk areas are South of Kermadec Islands, Vanuatu, Japan, Java, Northern California. Volcanoes may become active 9-11 July. Sinabung, Raul, Hakone, Wolf, Indonesia. Update. 7 July. Two location successes so far. No tsunamis or damage reported yet. Tremors are reported under Piton de la Fournaise. Many Indonesian volcanoes are apparently in minor ash eruptions. Volcanoes may pick up more soon. Updated map.

Summary.
This forecast was a great success. Action right on hotspots Japan, Kermadec Islands and Tonga.
Sinabung, Raung and other Indonesian volcanoes are emitting plenty of ash. More data may come through later.
7 July. Tonga 6.2, Japan 6.3
8 July. Northern Kermadecs 5.8
10 July. Solomon Islands 6.7

Content © Roary Arbon 2013 - 2016
Website Design by Go Tech.