Forecast for 11 July 2015 - 12 July 2015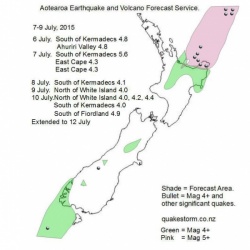 Click to Enlarge

Quake activity may increase.
Magnitude 6+ risk areas are Kermadec Islands, Fiji, Tonga, Japan.
Volcanic activity may continue. Sinabung, Raung, Indonesia, Hakone, Japan, Piton de la Fournaise.

Update. 10 July.
New quake condtions may arrive soon.
10 July has seen major quakes in the Southwest Pacific. Aotearoa and Solomon Islands are in the zone. Thousands of Islanders are still homeless after last weeks unseasonal cyclone brought very heavy rain and high winds. No tsunami.
10 July quakes are late arrivals from the active 7-9 July forecast period.
Forecast Map updated.
10 July. North of White Island 4.0, 4.2, 4.4
South of Kermadecs 4.0
South of Fiordland 4.9


Content © Roary Arbon 2013 - 2016
Website Design by Go Tech.