Aotearoa Summary. 1 August 2015 - 5 August 2015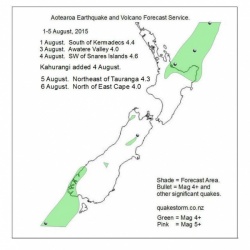 Click to Enlarge

Quake activity may increase.
Magnitude 4+ risk areas are East Cape 2am, 2pm; Bay of Plenty 2am, 2pm; Rotorua 2am, 2pm; North Canterbury; Ahuriri Valley; Haast; Fiordland 1am, 1pm.
Lunar modulation may center quakes around low tide.
Early quakes may fade, building again near the end of the period.
Volcanoes quiet.

Update. 4 August 2200NZST.
Kahurangi is added to Mag 4+ risk areas.
Quakes and eruptions are very moderate early in the period. Good location success, especially Awatere Valley.
Quakes may gain a little strength 5 August and big global weather lose strength.
Great tracking ahead of Typhoon Souledor so far, better than standard forecasts. Power down to Category 3 possible 5 August.
The large eruptions of Piton de la Fournaise and Manam on 31 July gave excellent timing success to the 28-30 July forecast but poor location success.
Sinabung, Raung, Dukono and many other Western Pacific volcanoes heated up on 31 July and then cooled.
The eruption of Piton de la Fournaise ended on 2 August. Major global volcanic eruptions seem unlikely late in the forecast period. Thanks.

Summary.
1 August. South of Kermadec Islands 4.4
3 August. Southern Awatere Valley 4.0
4 August. Southwest of Snares Islands 4.6
5 August. Northeast of Tauranga 4.3 USGS
6 August. North of East Cape 4.0
Quakes were moderate during the period. Good location success in South Awatere Valley.
Weather has been dominant during the period.



Content © Roary Arbon 2013 - 2016
Website Design by Go Tech.