Pacific Summary 1 August 2015 - 5 August 2015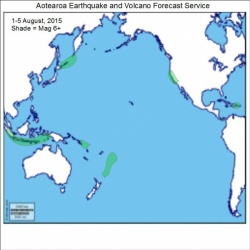 Click to Enlarge

Quake activity may increase.
Magnitude 6+ risk areas Kermadec Islands, Tonga, Fiji, Santa Cruz Islands, Banda Sea, Sumatra, Java, Kuril Islands, California.
Other Mag 6+ risk areas are Hindu Kush, Eastern Himalayas, Puerto Rico.
Volcanic activity may increase 4-8 August. Piton de la Fournaise, Redoubt (Alaska), Sinabung, Raung, Indonesia, Colima, Sabancaya, Akan, Kirishima.
Tropical Storm Soudelier near Guam could intensify quickly to Category 4 on 1 August.

Update. 2 August.
News reporters focussing on a piece of plane wreckage found on a Reunion beach have being paying scant attention to the lava flowing from Piton de la Fournaise just over their shoulder. The eruption is apparently quite large with the five main vents on the kilometer long fissure still open.
Quakes quiet so far, this may be a volcano period. Queensland received a 5.6, 5.2 double yesterday, the largest in a century. Local quakes, if any, should be moving into the South Island today.

Update. 4 August.
The forecast period is turning into a weather bomb.
Typhoon Souledor surprised forecasters, powering up rapidly on 2 August, turning Category 5 soon after wrecking the Marianas Island of Saipan as a Category 2 storm. Lucky for the locals...sort of.
Meteorologists predict Souledor could still be Category 4 when it crosses Taiwan on 7 July.
Watch out for Souledor to power down rapidly from 5 July, well before it reaches Taiwan but heavy flooding.
Pakistan, India, Myanmar have heavy monsoon floods. One Myanmar village elder claims worst ever.
Hobart, Australia snow, first in eleven years. NZ heavy northwest gales, rain.
Global quakes quiet so far. Driving conditions are present so 5 July could be active.
Eruptions of Piton de la Fournaise, Manam, on 31 July were from 28-30 July forecast period. Great timing success there but too slow getting Piton de la Fournaise forecast out. Raung, Sinabung active. Eruption of Piton de la Fournaise has ended.

Summary.
1 August. Bundaberg, Australia 5.6, 5.2
5 August. Santa Cruz Islands 5.2, Hindu Kush 5.1
Quakes never reached high levels unless you were a Queenslander.
Volcanoes were active. The eruption of Raung increased, causing more flight delays at nearby Bali. Sinabung, Dukono, Karymsky, Fuego were all active.
Typhoon Soudelor powered up to Category 5 on 2 August. Great success. Standard forecasts were all over the place. Asia very heavy monsoon rain. Pakistan, India, Myanmar

Content © Roary Arbon 2013 - 2016
Website Design by Go Tech.