Pacific Summary 7 August 2015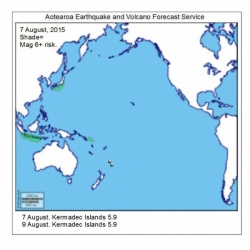 Click to Enlarge

Quake activity may increase.
Magnitude 6+ risk areas are Santa Cruz Islands, Java, Honshu.
Volcanic activity may increase. Raung, Sinabung, Dukono, Japan.
Typhoon Souledor weakened to Category 3 on 6 August but may strengthen to low Category 4 on 7 August with very heavy rain as it crosses Taiwan.
NZ could also get heavy rain and snow on 7 August.
Updates on Facebook/ Roary Arbon.

Summary.
Quakes and volcanoes rumbled on 7 August but never above Mag 6.
Many Mag 5 though, the largest north of Raoul Island.
Volcanoes were hot. Manam, Raung, Sinabung, Dukono, Japan, Kamchatka, Colima, Sabancaya and others making much ash but no large eruptions.
NZ was just below Mag 4, justifying no forecast here.
Typhoon Soudelor powered up on 7 August to high Cat 3 then gave Taiwan a lashing. Extensive damage, flooding, mudslides.
NZ got a harsh winterstorm. Great weather timing success.
7 August. Kermadec Islands 5.9
9 August. Kermadec Islands 5.9


Content © Roary Arbon 2013 - 2016
Website Design by Go Tech.