Aotearoa Summary. 17 August 2015 - 18 August 2015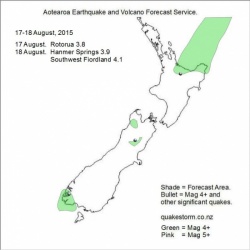 Click to Enlarge

Quake activity may increase.
Magnitude 4+ risk areas are Bay of Plenty, East Cape, North Canterbury/Hope, Kahurangi/Murchison, Southwest Fiordland.
Volcanoes quiet.
The forecast period is likely to be extended.

Summary.
This forecast worked extremely well.
Reduced SW Fiordland risk area was a great success.
Confusing Rotorua magnitude data. Hanmer good hit.
Global weather picked up strongly on 17 August.
Supertyphoons Goni and Atsani powered up suddenly from Cat 1 to Cat 5, surprising meteorologists. NZ and Tasmania received snow. Tasmanian weathermen report that two big snowstorms within a couple of weeks is rare.
Quake conditions are slightly easier on 19 August but should pick up strongly on 20 August in the Northern Hemisphere.
17 August. Rotorua 3.8 (4.3 USGS, EMSC)
18 August. Hanmer Springs 3.9
Southwest Fiordland, Breaksea Sound 4.1

Content © Roary Arbon 2013 - 2016
Website Design by Go Tech.