Pacific Summary 17 August 2015 - 18 August 2015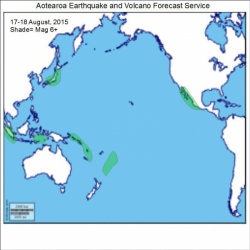 Click to Enlarge

Quake activity may increase.
Magnitude 6+ risk areas are Kermadec Islands, Fiji, Tonga, Vanuatu, Solomon Islands, Banda Sea, Sumatra, Honshu, Mexico.
Volcanoes may be very active. Cotopaxi, Sakurajima, Hakone, Manam, Colima, Sinabung, Raung, Monowai, Pangai.
The period may be very active volcanically with moderate quakes.
The forecast period is likely to be extended.
Volcano updates on Facebook/Roary Arbon.

Summary.
This forecast didn't work.
Quakes were quiet despite many beautiful aurorae.
Quakes are now more likely to release later as the energy transfer via the aurorae doesn't just go away.
Volcanoes were quiet. The eruption of Cotopaxi on 15 August was a timing success from the 12-13 August forecast period but frustratingly Cotopaxi was dropped from June/July forecasts as an eruption risk. Cotopaxi hasn't erupted for 40 years.
The eruption of Raung has ended.
The global volcanic active period June/July may be ending.
Supertyphoons Goni and Atsani, a rare North Pacific Category 5 pair, powered up on 17 August.

Content © Roary Arbon 2013 - 2016
Website Design by Go Tech.