Aotearoa Summary. 20 August 2015 - 24 August 2015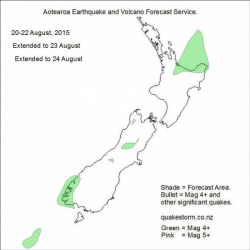 Click to Enlarge

Quake activity may increase.
Magnitude 4+ risk areas are East Cape, Bay of Plenty, Kahurangi/ Murchison, North Canterbury/Hope, South of Hokitika, Fiordland.
Volcanoes quiet.
The forecast period is likely to be extended.

Update. 22 August 2330 NZST.
The forecast period is extended to 23 August.
All risk areas and Magnitudes are unchanged.
Volcanoes quiet.
A new forecast will be posted for 24 August.

Update. 23 August 2100NZST.
Driving conditions are now here, a little later than expected.
The forecast period is extended to 24 August.

Summary.
This forecast didn't work. Moderate driving conditions failed to drive quakes.
22 August. Kermadecs 5.2



Content © Roary Arbon 2013 - 2016
Website Design by Go Tech.