Pacific Summary 23 August 2015 - 24 August 2015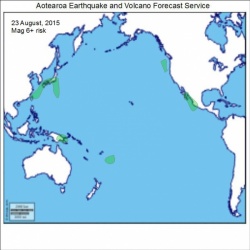 Click to Enlarge

Quake activity may increase.
Magnitude 6+ risk areas are Fiji, Eastern Papua New Guinea, Honshu, Taiwan, South of Japan, Oregon, Mexico.
Non Pacific risk areas are Eastern Himalayas, Iran.
Global volcanoes quiet. Possible eruptions Sakurajima, Manam. Volcano confidence = low.
A new forecast for 24 August will be posted.

Update. 23 August 2100NZST.
The forecast period is extended to 24 August.

Summary.
This forecast never worked.
Quakes were quiet. The low confidence volcano forecast was justified. Volcanoes are cooling.
Piton de la Fournaise bucked the volcanic trend, erupting on 24 August, the fourth eruption this year and lasting just two days.

Content © Roary Arbon 2013 - 2016
Website Design by Go Tech.