Aotearoa Summary. 27 August 2015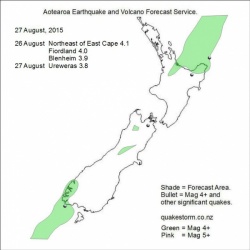 Click to Enlarge

Quake activity may increase.
Magnitude 4+ risk areas are East Cape, Bay of Plenty, North Canterbury, Murchison, Fiordland.
Volcanoes quiet.

Summary.
26 August. Northeast of East Cape 4.1
Fiordland 4.0
Blenheim 3.9
27 August. Ureweras 3.8
Early quakes just made it to Mag 4.
Good location success and good pickup of mild conditions.

Content © Roary Arbon 2013 - 2016
Website Design by Go Tech.