Pacific Summary 29 August 2015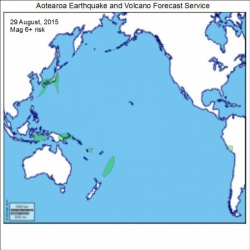 Click to Enlarge

Quake activity may increase.
Magnitude 6+ risk areas are Kermadec Islands, Fiji, Santa Cruz Islands, Eastern New Guinea, Banda Sea, Japan, South of Japan, Peru.
Non Pacific areas are Aegean Sea, Iran.
Volcanic activity may increase. Cotopaxi, Sakurajima. Volcano confidence = low.

Summary.
This forecast continued the trend towards extremes of high and low quake and volcanic activity.
Piton de la Fournaise is erupting steadily according to the seismologists on Reunion. The 10 day old eruption now appears bigger than the 3 earlier eruptions in 2015.
Remaining global volcanoes showed light activity on 31 August and then quiet.
29 August. Crete 4.1
Kermadec Islands 4.9

Content © Roary Arbon 2013 - 2016
Website Design by Go Tech.