Pacific Summary. 9 September 2015 - 11 September 2015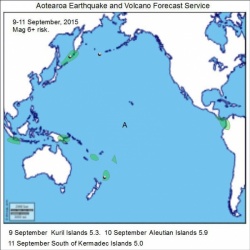 Click to Enlarge

Quake activity may increase.
Magnitude 6+ risk areas are South of Kermadec Islands, Fiji, Tonga, Vanuatu, Eastern New Guinea, Java, Kuril Islands, Panama.
The eruption of Piton de la Fournaise may continue.
Pacific volcanoes may become active 11-12 September.

Summary.
This forecast was only good for Mag 5+.
South of Kermadecs went quiet on 9/10 September but got a late Mag 5.0 on 11 September, marking the expected increase.
Piton de la Fournaise continues to erupt. The strong eruption has only slightly weakened in 17 days.
Global volcanoes were unsurprisingly quiet. Late eruptions seem unlikely.
Forecasts will go back to low confidence until they are adjusted to changing solar conditions.

Content © Roary Arbon 2013 - 2016
Website Design by Go Tech.