Aotearoa Summary. 9 September 2015 - 11 September 2015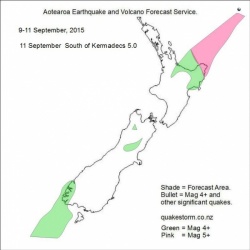 Click to Enlarge

Quake activity may increase.
Magnitude 5+ risk area is East Cape.
Magnitude 4+ risk areas are Bay of Plenty, Gisborne, Wairoa, North Canterbury/Hope, Murchison, Fiordland.
Activity may increase on 11 September.
Volcanoes quiet.

Summary.
This forecast hasn't worked.
South of Kermadecs activity faded quickly to nothing following the 7/8 September 6.4, 6.2 double quake, never reaching as far south as Aotearoa.
Activity has increased as expected late on 11 September. The South of Kermadecs 5.0 was the first there for two days.
11 September. South of Kermadecs 5.0
Pacific and Aotearoa forecasts will go back to low confidence until they are adjusted to long term lessening solar activity.


Content © Roary Arbon 2013 - 2016
Website Design by Go Tech.