Pacific Summary. 14 September 2015 - 15 September 2015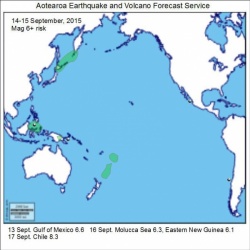 Click to Enlarge

Quake activity may increase.
Magnitude 6+ risk areas are Hokkaido, Kuril Islands, Kermadec Islands, Fiji, Tonga, Eastern New Guinea, Molucca Sea.
Activity may shift to the Northern Hemisphere.
The eruption of Piton de la Fournaise may continue.
Pacific volcanoes quiet.
Forecast confidence = low.

Summary.
Quakes arrived late on 16 September. Excellent SW Pacific location success from a low confidence forecast.
The Chile 8.3 confirms changing solar quake driving conditions.
The 2013 long term outlook for bigger quakes, spaced apart may be underway with accompanying volcanic and weather changes.
The eruption of Piton de la Fournaise continues. A steady river of lava flows inside tubes for 3 km before reapppearing lower down the volcano.
Asosan (Japan) was the only Pacific volcano to erupt during the period.
Heavy heating at Colombian and Ecuadorian volcanoes on 15 September but no eruptions.
13 September. Gulf of California 6.6
16 September. Molucca Sea 6.3, Eastern New Guinea 6.1
17 September. Chile 8.3, 6.4, 6.1, 6.2, 7.0, 6.4, 6.6, 6.7

Content © Roary Arbon 2013 - 2016
Website Design by Go Tech.