Aotearoa Summary. 19 September 2015 - 20 September 2015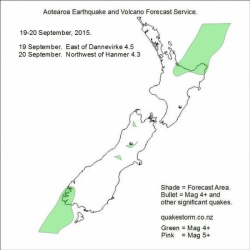 Click to Enlarge

Quake activity may increase.
Magnitude 4+ risk areas are East Cape, Bay of Plenty, Murchison, Hanmer/Hope, Rakaia, Fiordland.
Volcanoes quiet.
Forecast confidence = low.

Summary.
A brief strong burst of quakes arrived on cue late 19 September.
Good timing and location success for a low confidence forecast.
19 September. East of Dannevirke 4.5
20 September. Northwest of Hanmer 4.3

Content © Roary Arbon 2013 - 2016
Website Design by Go Tech.