Pacific Summary. 19 September 2015 - 20 September 2015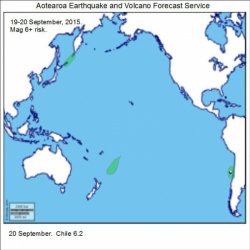 Click to Enlarge

Quake activity may increase.
Magnitude 6+ risk areas are Chile, Fiji, Kermadec Islands, Kuril Islands.
The 16 September Chile 8.3 aftershock sequence has steadily declined to low Mag 5. Watch out for possible new Mag 6 quakes late 19 September.
Eruption of Piton de la Fournaise continues.
Pacific volcanoes may increase activity 20-21 September. Colombia, Ecuador, Karangetang.

Summary.
Good success for a low confidence forecast, despite aftershock sequences being far easier to forecast than mainshocks.
Chile quakes dropped below Mag 6 early on 18 September.
Nearly two days later strong brief driving conditions and a Chile 6.2 aftershock arrived. New Zealand had a burst of quakes at the same time.
Piton de la Fournaise continues to erupt a river of lava. The eruption shows little sign of ending.
Pacific volcanoes quiet.
17 September. Chile 8.3, 6.4, 6.1, 6.2, 7.0, 6.4, 6.5, 6.7
18 September. Chile 6.3
20 September. Chile 6.2




Content © Roary Arbon 2013 - 2016
Website Design by Go Tech.