Pacific Summary. 23 September 2015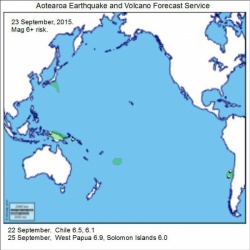 Click to Enlarge

Quake activity may increase.
Magntiude 6+ risk areas are Chile, Tonga, Papua New Guinea, South of Japan.
The eruption of Piton de la Fournaise may continue.
Global volcanoes quiet or minor activity.
Quake activity may arrive very early on 23 September.

Summary.
Great location success in West Papua but coming two days late, justifying the low confidence forecasts during the extended 19-25 September forecast period.
One day forecasts were not accurate enough with timing. Quakes were occurring just as often on non forecast days.
A return to extended forecasts is likely.
The eruption of Piton de la Fournaise continues but may be about to end.
Pacific volcanoes quiet.
22 September. Chile 6.5, 6.1
25 September. West Papua 6.9, Guadalcanal 6.0

Content © Roary Arbon 2013 - 2016
Website Design by Go Tech.