Aotearoa Summary. 23 September 2015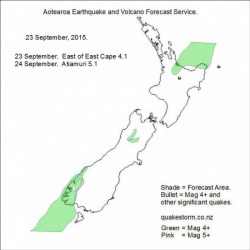 Click to Enlarge

Quake activity may increase.
Magnitude 4+ risk areas are East Cape, Bay of Plenty, Murchison, Lewis Pass, Hope, Haast, Fiordland, South of Fiordland.
Volcanoes quiet.
Activity may be early in the period and then quiet.

Summary.
This forecast was successful. Difficult timing issues.
23 September. East of East Cape 4.1
24 September. Atiamuri 5.1 0402 NZST.

Content © Roary Arbon 2013 - 2016
Website Design by Go Tech.