Aotearoa Summary. 29 September 2015 - 30 September 2015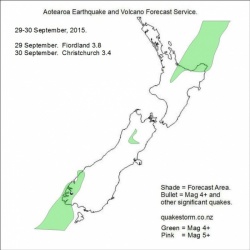 Click to Enlarge

Quake activity may increase.
Magnitude 4+ risk areas are East Cape, Bay of Plenty, Tokoroa, Murchison, Lewis Pass, Hope, Fiordland.
Lunar modulation may center this activity around low tide.
Volcanoes quiet.

Summary.
This forecast showed how even strong lunar pull from the 28 September supermoon produced few quakes when unaccompanied by solar activity.
The low tide Taylors Mistake 3.4 seemed to cause a few hearts to beat faster in Christchurch, coming when lunar pull is at its strongest.
29 September. Fiordland 3.8
30 September. Christchurch, south of Taylors Mistake 3.4, 12.36pm. Low tide 12.39pm.



Content © Roary Arbon 2013 - 2016
Website Design by Go Tech.