Pacific Summary. 8 October 2015 - 9 October 2015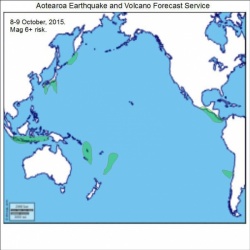 Click to Enlarge

Quake activity may increase.
Magnitude 6+ risk areas are Kermadec Islands, Fiji, Tonga, Eastern Solomon Islands, Java, Eastern Indonesia, South of Japan, Kuril Islands, Mexico, Guatemala, Chile.
Global quake activity may follow the extreme global weather from 4 October. See Facebook/ Roary Arbon.
Pacific volcanoes have been quiet for two weeks but may fire up again from 9 October.
Location confidence = low.
The forecast period may be extended.

Summary.
Pacific quake and volcanic activity was ominously quiet during the period, despite strong driving conditions arriving on cue.
Indonesia had steady Mag 4-5 quakes.
A buildup to a big Pacific quake, possibly equatorial or northern hemisphere near 14 0ctober is possible.
Piotn de la Fournaise nearly went quiet but has been slowly increasing again from 4 October.
The ongoing lava flow from P'u O'o at Kilauea increased on 8 October.
Anecdotal evidence from locals at Lake Toba, Sumatra is that the giant volcano is warming a little bit.
7 October. Kermadecs 5.0, Flores Sea 4.5
10 October. South of Kermadecs 5.1

Content © Roary Arbon 2013 - 2016
Website Design by Go Tech.