Aotearoa Summary. 8 October 2015 - 9 October 2015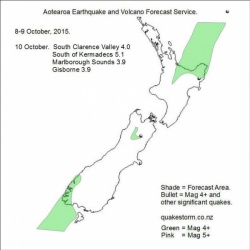 Click to Enlarge

Quake activity may increase.
Magnitude 4+ risk areas are East Cape, Bay of Plenty, Rotorua, Taupo, Taumarunui, Taupo, Murchison, Lewis Pass, Hope, Fiordland.
Volcanoes quiet.
The forecast period may be extended.

Update. 8 October, 2230NZST.
Aurora watchers are being treated to some amazing shows today.
Many Christchurch quake veterans seem to have been rudely awoken by this mornings 5.18am shallow Mag 2.8.
A major quake in the city is extremely unlikely during or after the period, not even Mag 4.
Global quakes are very subdued, indicating a possible buildup as with the recent Chile 8.3. Tough forecasting conditions but possibly more evidence for the 2013 long term outlook of more quakes, spaced apart.

Summary.
Strong driving conditions arrived on cue, late 7 October.
Quakes came late however on 10 October. Reasonable location success.
A Pacific buildup may be occurring but most likely equatorial or northern hemisphere.
8 October. Christchurch 2.8, 5.18am.
10 October. South Clarence Valley 4.0, 2.26am; South of Kermadecs 5.1; Marlborough Sounds 3.9? 6.37am; Gisborne 3.9, 4.59pm.

Content © Roary Arbon 2013 - 2016
Website Design by Go Tech.