Aotearoa Summary. 13 October 2015 - 19 October 2015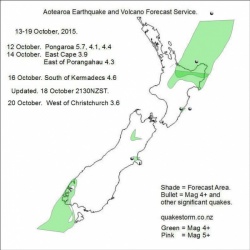 Click to Enlarge

Quake activity may increase.
Magnitude 4+ risk areas are East Cape, Bay of Plenty, North Wairarapa, Murchison, Lewis Pass, Hope, Fiordland.
Volcanoes quiet.
Note: The Pongaroa 5.8 has come as this forecast was being processed. Pongaroa wasn't going to be a forecast area.

Update. 14 October.
Local quakes are running at high frequency.
Quake driving conditions are strong.
Geonet have revised the big Pongaroa shake to 5.7.
The big world services, European Mediterranean Seismological Service, United States Geological Survey and Geofon have recorded Pongaroa at 5.4
Cyclone Koppu in Northern Pacific may go Cat 5.
White Island is heating up and may give a steam eruption late in the period.

Update. 16 October.
Local quakes were quiet today.
Christchurch is added to Mag 4+ risk areas.
The most active part of the forecast period is rapidly approaching. White Island and Kermadecs are active.
An undersea eruption appears to have taken place north of New Zealand, either in the Kermadecs or Tonga.
The forecast period has become very volcanic so watch our for action at White Island as well as quake action near Pongaroa and Hope/Murchison/Lewis Pass.

Update. 18 October, 2155NZST.
Quake activity may increase on 19 October.
Magnitude 4+ risk areas has new areas. Bay of Plenty, East Cape, Gisborne, Rotorua, Taupo, Taumarunui, Wairoa, Pongaroa, Murchison, Lewis Pass, Hope, Christchurch, Fiordland.

Summary.
This forecast got ahead of the action after initially getting behind the early arriving Pongaroa 5.7.
The addition of Christchurch on 17 October was justified.
Luckily Christchurch quakes rarely reach Mag 4 nowadays.
Mag 2-3 swarming at Bay of Plenty and White Island on 17 October accompanied bigger action north of New Zealand.
12 October. Pongaroa 5.7, 4.4, 4.1
14 October. East Cape 3.9, East of Porangahau 4.3
16 October. South of Kermadecs 4.6
20 October. Christchurch 3.6




Content © Roary Arbon 2013 - 2016
Website Design by Go Tech.