Aotearoa Summary. 22 October 2015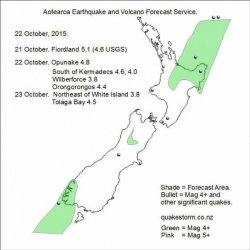 Click to Enlarge

Quake activity may increase.
Magnitude 4+ risk areas are Bay of Plenty, East Cape, Rotorua, Taupo, Taumarunui, Wairoa, Hope, Lewis Pass, Murchison, Fiordland.
Volcanoes quiet.
Note. This forecast was posted after the 21 October, 10.49pm Fiordland 5.1 (4.6 USGS)

Update. 22 October. 1430NZST.
Yesterdays Fiordland quake was likely Mag 4.6. For consecutive forecasts quakes have arrived frustratingly early, beating this Service by about an hour each time.
More action arrived today in Taranaki.
The extended forecast area into Taumarunui wasn't quite far enough for a perfect location match.

Summary.
North Island has been rattled by a series of quakes.
Excellent timing success but locations were shakey.
White Island has remained hot but an eruption seems unlikely now.
Quakes are coming late and even after the very long recent forecast periods.
Hopefully forecast timing issues can be fixed up.
Earth is now in a new period of bigger quakes, spaced apart, an outlook put forward by this Service in 2013.
Increased volcanic activity must follow.
Likewise increased wild weather has already been observed and sudden global cooling could follow. Experienced solar observers were surmising changing weather in 2008....
21 October. Fiordland 5.1 (4.6 USGS)
22 October. South of Kermadecs 4.6, 4.0
Opunake 4.8
Wilberforce 3.8
Northern Orongorongos 4.4
23 October. Northeast of White Island 3.8
Tolaga Bay 4.5, 5.04am
More postings and comments on Facebook/ Roary Arbon.

Content © Roary Arbon 2013 - 2016
Website Design by Go Tech.