Pacific Summary. 22 October 2015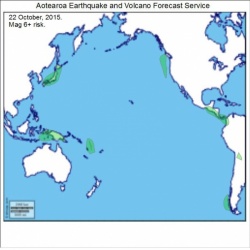 Click to Enlarge

Quake activity may increase.
Magnitude 6+ risk areas are Espiritu Santo, Santa Cruz Islands, Papua New Guinea, Eastern Banda Sea, Hokkaido, Honshu, West of Oregon, Nicaragua, Guatemala, Panama, Northern Colombia, South of Titicaca, Southern Chile, Eastern Himalayas.
Volcanoes may become active. Java, Banda Sea, Bata Taru, Dukono, Japan, Papua New Guinea.

Summary.
Pacific quakes never came during the period.
New activity has been building in the Indian Ocean for several weeks.
Indonesian volcanoes are hot with many ash plumes.
Piton de la Fournaise in the Southern Indian Ocean has started erupting again after only a couple of days rest. The eruption began on 24 August.
Hurricane Patricia near the Mexican coast powered up suddenly to Cat 5 on 22 October. Landfall on 24 October could bring very high wind gusts.
23 October. Southern Indian Ocean 6.1, 6.0

Content © Roary Arbon 2013 - 2016
Website Design by Go Tech.