Pacific Summary. 25 October 2015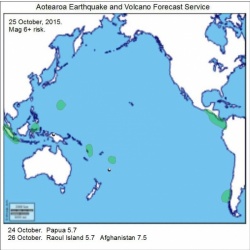 Click to Enlarge

Quake activity may increase.
Magnitude 6+ risk areas are Fiji, Vanuatu, Santa Cruz Islands, Celebes Sea, Marianas Islands, Guatemala, Nicaragua, Panama, Colombia, Southern Chile.
Non Pacific risk areas are Indian Ocean, Sumatra, Pakistan.
Mag 5+ risk areas are East Africa.
Volcanic activity may increase. Piton de la Fournaise, Indonesia, Tambora.
Forecast confidence = low.

Summary.
The Hindu Kush 7.5 has been a fantastic forecasting success. Excellent location success and fair timing success. The 200km deep quake was felt widely across Pakistan, Afghanistan, India. Sadly several hundred people have lost their lives to the quake.
Many Indonesian volcanoes are smoking hot, justifying the forecast shift to the Indian Ocean.
The eruption of Piton de la Fournaise increased on 24 October then faded.
Hurricane Patricia remained Cat 5 on 24 October.
Luckily the narrow eye with very high wind gusts missed the big towns as it crossed the Mexican coast. The storm has drenched Mexico and Texas.
24 October. Papua 5.7
25 October. Kermadecs 5.1
26 October. Raoul Island 5.7, 5.1
Santa Cruz Islands 4.8
Hindu Kush 7.5

Content © Roary Arbon 2013 - 2016
Website Design by Go Tech.