Pacific Summary. 28 October 2015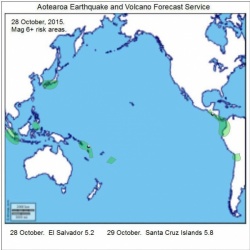 Click to Enlarge

Quake activity may increase.
Pacific Magnitude 6+ risk areas are Fiji, Vanuatu, Santa Cruz Islands, Guadalcanal, Celebes Sea, Southern Honshu, Guatemala, Nicaragua, Panama, Colombia, South of Lake Titicaca.
Indian Ocean Magnitude 6+ risk areas are Hindu Kush, Sumatra.
Mediterranean risk areas are Aegean Sea, Crete.
Southern France = Mag 4+ risk.
Volcanic activity may increase.
Sinabung, East Java, Lombok, Flores Sea, Southern Japan, Colombia, Ecuador, Raoul, Piton de la Fournaise.

Summary.
Quake and volcano driving conditions eased slightly during the period, following the big 26 October Pakistan/Afghanistan 7.5.
Excellent location success in southern France.
Many Mag 5 quakes, the largest at Santa Cruz Islands so good location success.
The eruption of Piton de la Fournaise which began on 24 August seems to be ending.
28 October. El Salvador 5.2
29 October. Santa Cruz Islands 5.8, Eastern Pyrenees 4.5

Content © Roary Arbon 2013 - 2016
Website Design by Go Tech.