Aotearoa Summary. 3 November 2015 - 9 November 2015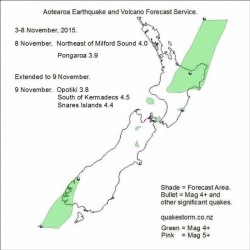 Click to Enlarge

Quake activity may increase.
Magnitude 4+ risk areas are East Cape, Bay of Plenty, Taumarunui, Taihape, Taupo, Gisborne, North Wairarapa, West Taranaki Bight, Northern Cook Strait, Saint Arnaud, Murchison, Hanmer, Fiordland.
Steam activity may increase at White Island near the end of the period.

Update. 8 November.
The forecast period is extended to 9 November.
The period has been quieter than expected but good location success.
No data for White Island but weak action is still possible there.
8 November. Northeast of Milford Sound (Red Hills) 4.0, Pongaroa 3.9

Summary.
3 November. Mag 2 swarm New Plymouth.
4 November. Mag 3 swarm Whakatane.
8 November. Red Hills 4.0, Pongaroa 3.9
9 November. Opotiki 3.8, South of Kermadecs 4.5, Snares Islands 4.4
Quakes barely made it to Mag 4 late in the period. Good location success.
No visual observations for White Island. A sudden decrease in tremor late on 8 November could be a steam (phreatic) eruption.

Content © Roary Arbon 2013 - 2016
Website Design by Go Tech.