Pacific Summary. 3 November 2015 - 9 November 2015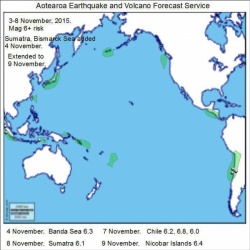 Click to Enlarge

Quake activity may increase.
Magnitude 6+ risk areas are Fiji, Tonga, Espiritu Santo, Santa Cruz Islands, Guadalcanal, Eastern Banda Sea, Taiwan, Honshu, Aleutian Islands, West of Oregon, El Salvador, Northern Chile, Afghanistan.
Volcanic activity may increase near the end of the period. Chile, Japan, Indonesia.
Volcano confidence = low.

Update. 4 November.
Sumatra, Bismarck Sea are added to Mag 6+ risk areas.
Western Banda Sea quake today.
Indonesian volcanoes are hot Sinabung, Rinjani, Dukono erupting
More action is likely.
4 November. Pulau Alor 6.3

Update. 7 November.
7 November. Chile 6.2, 6.8, 6.0
Quakes have been under Mag 6 during the central part of the period but have picked up today.
The aftershock sequence is the largest since the 17 September Chile 8.3.
Quake driving conditions are high so more big quakes are likely and possibly volcanic action.
A new forecast will be posted for 9 November.

Update. 8 November.
8 November. Sumatra 6.1
The forecast period is extended to 9 November. Locations are unchanged.
Quakes today were high frequency, many Mag 5.
Sumatra, North Chile, Philippines all busy so reasonable location success.
Rinjani continues to erupt. Tambora on nearby Sumabawa shows heating.
Sicilian volcano Etna is still active from 3 November but no eruption.

Update. 9 November. (See Facebook/ Roary Arbon)
The Indian Ocean is feeling the effects today.
Nicobar Islands near the northern tip of Sumatra have been going off.
There could be more yet as driving conditions still high and and the forecast period probably extended to 10 November.
Quakes may move into Northern Hemisphere locations next day.
9 November. Nicobar Islands 6.4

Summary.
This forecast had some great location successes.
The additon of Sumatra on 4 November was justified.
Indonesia was the most active ever observed by this Service.
Every point along the Indian Ocean boundary was rumbling or throwing ash.
The largest aftershock sequence from the 17 September Chile 8.3 fitted the forecast profile.
Heavy Mag 5 action early in the period fitted many forecast locations.
Indonesian volcano Rinjani erupted early in the period creating havoc for air travellers.
Tambora, Sinabung, Bromo, Dukono, Semeru all smoking hot.
Etna rumbled on 3 and 8/9 November but no eruptions.



Content © Roary Arbon 2013 - 2016
Website Design by Go Tech.