Aotearoa Summary. 10 November 2015 - 11 November 2015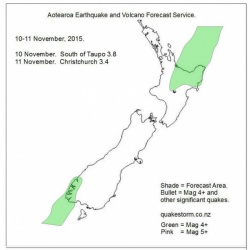 Click to Enlarge

Quake activity may increase.
Magnitude 4+ risk areas are East Cape, Bay of Plenty, Rotorua, Taupo, Taumarunui, Wairoa, Fiordland.
Activity is more likely in the North Island.

Summary.
Local activity never quite made it to Mag 4 despite big action in other Pacific areas.
The Chrsitchurch 3.4 seems to have been widely felt.
The 9 November Pacific Update pointed to activity moving into the Northern Hemisphere.
10 November. South of Taupo 3.8
11 November. Christchurch 3.4

Content © Roary Arbon 2013 - 2016
Website Design by Go Tech.