Pacific Summary. 12 November 2015 - 13 November 2015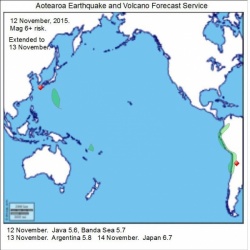 Click to Enlarge

Quake activity may increase.
Magnitude 6+ risk areas are Colombia, Peru, Northern Chile, Santa Cruz Islands, Southern Marianas Islands, Greece.
Volcanic activity may increase. Rinjani, Sinabung, Lascar, Fuego, Tinakula, Etna.

Update. 12 November.
The forecast period is extended to 13 November.
The expected new driving conditions aren't yet here.
The risky omission of Indonesia and Western Pacific as forecast locations is justified so far. Residual quakes from the 3-9 November forecast period were just under Mag 6 in Indonesia today.
Pacific volcanoes were quiet today.
12 November. Java 5.6, Banda Sea 5.7

Summary.
12 November. Java 5.6, Banda Sea 5.7
13 November. Argentina 5.8
14 November. Japan 6.7
17 November. Greece 6.5

This forecast was made for a day too early, a forecasting mistake.
Indonesian quakes faded on 12 November, following big rumbles across the whole archipelago.
Quakes picked up again 13-14 November.
Volcanoes cooled slightly during the period.
Quakes are now quiet until the new forecast period 18-19 November.
Greece, the only non Pacific forecast area during the period has gone off on 17 November. This is the largest European quake for a few years.

Content © Roary Arbon 2013 - 2016
Website Design by Go Tech.