Pacific Summary. 19 November 2015 - 20 November 2015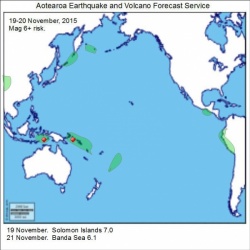 Click to Enlarge

Quake activity may increase.
Magnitude 6+ risk areas are Kermadec Islands, Tonga, Fiji, Northern Vanuatu, Solomon Islands, Banda Sea, Kuril Islands, Western Aleutian Islands, Mexico, Ecuador, Peru, Eastern Himalayas, Sichuan, Yunnan, Kyrgyzstan.
Volcanic activity may increase on 20 November. Tungurahua, Etna, Karymsky, Rinjani, Semeru, Sinabung.

Update. 19 November. (see Facebook/Roary Arbon)
Northwest of Guadalcanal 7.0
The period has started on cue. No tsunami apparently.
Tungurahua, Rinjani are hot but no eruptions.

Summary.
19 November. Solomon Islands 7.0
21 November. Banda Sea 6.1
Instant Mag 7.0 location and timing success early in the period. Lucky no tsunami.
The late Banda Sea 6.1 reflects the heavy Indonesia push last week.
Indonesian volcano Rinjani has increased from steam to ash eruptions and is building up. The huge crater lake is now steaming.
Ecuadorian volcano Tungurahua is blowing ash and causing havoc for local farmers.

Content © Roary Arbon 2013 - 2016
Website Design by Go Tech.