Pacific Summary. 27 November 2015 - 28 November 2015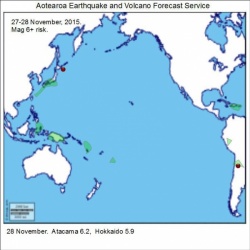 Click to Enlarge

Quake activity may increase.
Magnitude 6+ risk areas are Fiji, Vanuatu, Santa Cruz Islands, Papua New Guinea, Southern Philippines, Ryuku Islands, Southern Honshu, Brazil/Peru, Atacama, Caribbean Sea, Afghanistan, Iran, Southern Italy.
Volcanic activity may increase. Semeru, Rinjani, Etna, Tungurahua, Colima, Fuego.

Update. 27 November.
24 November. Marianas Islands 6.0
25 November. Peru 7.6, 7.6
26 November. Peru 6.7
The big Peru double quake was widely felt across South America.
Luckily the remote location and great depth of the quake resulted in limited damage...
The quake came well outside the 20-21 November forecast period but good location gains from this forecast.
Awu is added to volcanic activity risk areas.
Myanmar is added to Magnitude 6+ risk areas.

Summary.
28 November. Atacama 6.2, Hokkaido 5.9
The Atacama 6.2 made this forecast an instant success...South America has been heavily rattled this week.
The Pacific was relatively quiet during the period, driving conditions built more slowly than expected.
Guatemalan volcano Fuego erupted during the period, producing lava flows. Global volcanoes were sudued.

Content © Roary Arbon 2013 - 2016
Website Design by Go Tech.