Aotearoa Summary. 27 November 2015 - 28 November 2015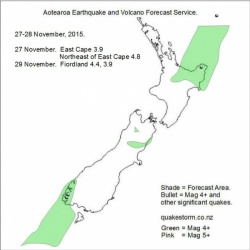 Click to Enlarge

Quake activity may increase.
Magnitude 4+ risk areas are East Cape, Bay of Plenty, Rotorua, Tokoroa, Gisborne, Wairoa, Kaikoura, Murchison, Hanmer, Fiordland, south of Fiordland.
Volcanoes quiet.

Summary.
27 November. East Cape 3.9, Northeast of East Cape 4.8
29 November. Fiordland 4.4, 3.9
Quake driving conditions built slowly through the period against expectations for an early shock, easing off later. Thus the late Fiordland sequence.
Central NZ quake locations have gone mushy for now, flattening out.

Content © Roary Arbon 2013 - 2016
Website Design by Go Tech.