Pacific Summary. 1 December 2015 - 2 December 2015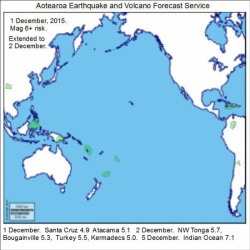 Click to Enlarge

Quake activity may increase.
Magnitude 6+ risk areas are Kermadec Islands, Fiji, Northern Tonga, Northern Vanuatu, Eastern New Guinea, South of Philippines, Northern Caribbean, Northern Colombia, Atacama, Northern Myanmar, Central Turkey.
Volcanic activity may increase.
Awu, Karangetang, Rinjani, Semeru, Fuego, Etna, Lascar.

Update. 2 December. 0100NZST.
The forecast period is extended to 2 December.

Volcano Update. 2 December. (See Facebook/Roary Arbon)
Latin America volcanoes Colima, Fuego, Santaguito, Momotomba, Turrialba, Chilean volcano Copahue and Kamchatkan volcano Zhupanovsky have all let go last couple of days.
This partially follows forecast profiles last week which have been chasing tectonic activity into Peru/Colombia...South America has delivered.

Summary.
1 December. Santa Cruz Islands 4.9, Atacama 5.1
2 December. Northwest of Tonga 5.7, Bougainville 5.3, Turkey 5.5, Kermadec Islands 5.0
5 December. Southern Indian Ocean 7.1.
The forecast period went volcanic.
Quakes never made it to Mag 6 but the largest quakes during the period gave excellent location success.
Volcanic activity usually arrives near the end or soon after quake periods and was demonstrated during this forecast period.
Momotomba erupted for the first time in 110 years.
Etna erupted spectacularly 3-5 December.

Content © Roary Arbon 2013 - 2016
Website Design by Go Tech.