Aotearoa Summary. 1 December 2015 - 2 December 2015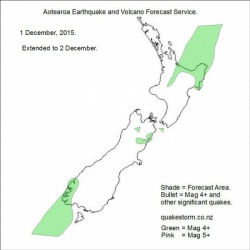 Click to Enlarge

Quake activity may increase.
Magnitude 4+ risk areas are East Cape, Bay of Plenty, Rotorua, Wairoa, Taumarunui, Kaikoura, Hanmer, Murchison, St. Arnaud, Fiordland.
Volcanoes quiet.

Update. 2 December.
The forecast period is extended to 2 December.
Cook Strait is added to Mag 4+ risk areas.

Summary.
5 December. Northeast of D'Urville Island 4.5, Mt Whitcombe 4.2
Quakes never came...the period went volcanic.
The very late 5 December quakes (including the Indian Ocean 7.1) were linked to the driving conditions for the period but too hard to forecast.

Content © Roary Arbon 2013 - 2016
Website Design by Go Tech.