Pacific Summary. 16 December 2015 - 17 December 2015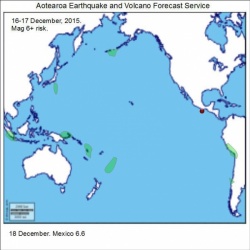 Click to Enlarge

Quake activity may increase.
Magnitude 6+ risk areas are Kermadec Islands, Tonga, Fiji, Vanuatu, Santa Cruz Islands, New Britain, Bismarck Sea, Southern Sumatra, South of Japan, Central Aleutian Islands, Southern Peru, South of Titicaca, North of Concepcion, North Adriatic Sea.
Volcanic activity may increase. Bromo, Etna, Colima, Masaya, Lascar, Copahue.

Quake Summary. 10-14 December.
12 December. Southeast of Kaikoura 4.4
14 December. Northeast of Murchison 4.5
The 10 December forecast offered no map and limited detail. See Facebook/Roary Arbon. Kaikoura, Cook Strait offered as quake locations.

Summary.
16 December. Vanuatu 5.3
18 December. Tonga 5.2, Mexico 6.6
The period was very volcanic.
Weaker than expected driving conditions gave moderate quakes, except for Mexico.
Colima (Mexico) and Fuego (Guatemala) erupted strongly, continuing the December volcanic trend.

Content © Roary Arbon 2013 - 2016
Website Design by Go Tech.