Aotearoa Summary. 16 December 2015 - 17 December 2015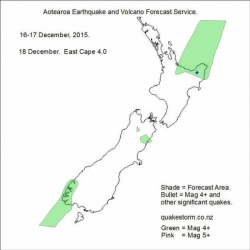 Click to Enlarge

Quake activity may increase.
Magnitude 4+ risk areas are East Cape, Bay of Plenty, Kaikoura, South Awatere Valley, Hanmer, Murchison, Fiordland.
Volcanoes quiet.

Quake Summary. 10-14 December.
12 December. Southeast of Kaikoura 4.4
14 December. Northeast of Murchison 4.5
The 10 December forecast offered no map and limited detail. See Facebook/Roary Arbon. Kaikoura, Cook Strait offered as quake locations.

Summary.
18 December. East Cape 4.0
Later and weaker than expected conditions weren't enough to drive quakes.
Conditions during the period, locally and globally have been volcanic.
White Island is slightly hot.

Content © Roary Arbon 2013 - 2016
Website Design by Go Tech.