Pacific Summary Updated. 20 December 2015 - 22 December 2015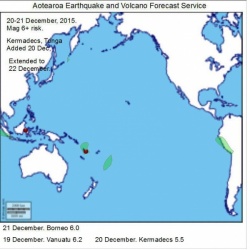 Click to Enlarge

Quake activity may increase.
Magnitude 6+ risk areas are Vanuatu, Santa Cruz Islands, Sumatra, Central Kuril Islands, Peru, Western Nepal/Northern India, Adriatic Sea.
Volcanic activity may increase. Bromo, Colima, Fuego, Masaya, Copahue, Lascar.

Update. 20 December.
Kermadec Islands,Tonga are added to Mag 6+ risk areas.
Possibility Mag 7+ Pacific.

Update. 21 December.
21 December. Borneo 6.0
The forecast period is extended to 22 December.
Very heavy quake driving conditions continue today.
Possibility for Mag 7+ quake Pacific.

Summary.
This forecast was a mixed success.
Quakes showed up but didn't match the strong driving conditions.
A buildup could be taking place. Time will tell.
Reasonable location success. Borneo is a tough location to forecast although some behind the scenes clues were evident. Vanuatu great hit.
Volcanoes were quiet. No forecast success.

Addendum.
Late data arrival has put an eruption of Colima (Mexico) on 22 December.



Content © Roary Arbon 2013 - 2016
Website Design by Go Tech.