Aotearoa Summary. 25 December 2015 - 26 December 2015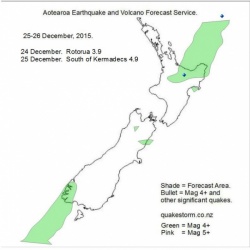 Click to Enlarge

Quake activity may increase.
Magnitude 4+ risk areas are East Cape, Bay of Plenty, Tokoroa, Rotorua, Hawkes Bay, Kaikoura, North Canterbury, Murchison, Fiordland, South of Fiordland.
Volcanoes quiet.
Forecast confidence = low.

Summary.
24 December. Rotorua 3.9, 11.18pm
25 December. South of Kermadecs 4.9
Low confidence was justified.
Early action never built up.
Like the Pacific forecast, driving conditions were higher than quakes, suggesting a buildup.
The 30 December Eketahuna 4.7 will make the 1 January, 2016 forecast an interesting one.

Content © Roary Arbon 2013 - 2016
Website Design by Go Tech.