Pacific Summary. 25 December 2015 - 26 December 2015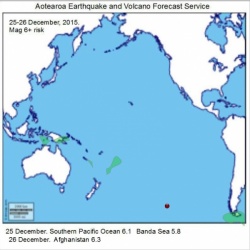 Click to Enlarge

Quake activity may increase.
Magnitude 6+ risk areas are Scotia Sea, Kermadec Islands, Southern Vanuatu, Banda Sea, Eastern New Guinea.
Volcanoes generally quiet. Bromo, Colima.
Forecast confidence = low.

Update. 27 December. (from Facebook/Roary Arbon)
26 December. Afghanistan 6.3
Quake driving conditions have been consistently high without many big quakes. The possibility for a big release still exists.
South Pacific Ocean 6.1 not in forecast area but this Service is very happy with that location.
Big weather seems to be just around the corner. Watch out in the news.

Summary.
25 December. Kermadecs 4.9, South Pacific Ocean 6.1, Banda Sea 5.8
26 December. Afghanistan 6.3
Quake activity during the period was moderate, weather big.
This difficult forecast featured southern locations and largely worked in that respect.
Volcanoes were quiet as expected.
Quakes were too quiet for the driving conditions however. A buildup similar to the 17 September Chile 8.3 may be taking place.

Content © Roary Arbon 2013 - 2016
Website Design by Go Tech.