Aotearoa Summary. 11 January 2016 - 14 January 2016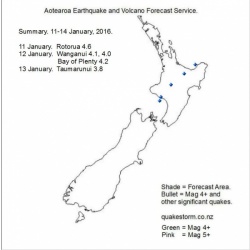 Click to Enlarge

11 January. (from Facebook/Roary Arbon)
Twin quakes in Japan and south of Philippines today along with more local action has marked a new quake period.
This Service has got behind the action for this period...we've been very busy last few days and unable to give much observation time.
New Zealand is still in the zone next couple of days, particularly Lower North Island, Cook Strait, Upper South Island. A detailed forecast will be posted tonight for the remainder of the period.

Summary.
11 January. Rotorua 4.6
12 January. Wanganui 4.1, 4.0; Bay of Plenty 4.2
13 January. Taumarunui 3.8
The detailed forecast was never posted.
Making a forecast requires considerable focus and this Service simply couldn't catch up with the action.
More action did follow the 11 January posting, confirming the period.
Locations were all over the place however, not in the vague locations given and there is some doubt for the validity of the Bay of Plenty 4.2. Very messy.
Action Kermadecs and Macquarie during the period, close to home.

Content © Roary Arbon 2013 - 2016
Website Design by Go Tech.