Pacific Summary. 22 January 2016 - 24 January 2016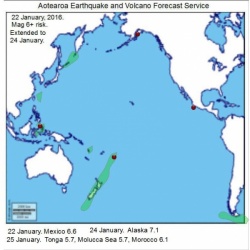 Click to Enlarge

Quake activity may increase.
Magnitude 6+ risk areas are South of New Zealand, New Zealand, Kermadec Islands, Fiji, Tonga, Molucca Sea, Taiwan, Kuril Islands, Scotia Sea.
Volcanoes generally quiet. Fuego, Egon.

Update. 23 January.
The forecast period is extended to 24 January.
Vanuatu is added to forecast locations.
Moderate early driving conditions have given way to the quieter middle section. Quakes are expected to pick up again near the end of the period.

Summary.
22 January. Mexico 6.6, Molucca Sea 5.0
23 January. Vanuatu 5.1, 5.1
24 January. Alaska 7.1, Kermadecs 4.8
25 January. Tonga 5.7, Molucca Sea 5.7, Morocco 6.1
This forecast mostly worked.
Frustratingly the biggest quakes were in the wrong locations, justifying the low location confidence.
Activity arrived on cue with the Mexico rumble.
Forecast locations became active but under Mag 6.
Volcanoes were quiet as expected.
Northern Hemisphere weather was huge. The big cold came out of the North Pole, creating havoc.

Content © Roary Arbon 2013 - 2016
Website Design by Go Tech.