Pacific Summary. 16 February 2016 - 24 February 2016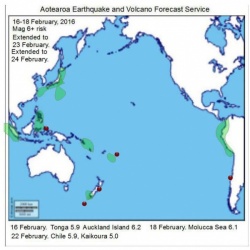 Click to Enlarge

Quake activity may increase.
Magnitude 6+ risk areas are Honshu, Kyushu, Ryuku Islands, Southern Philippines, Molucca Sea, Sumatra, Colombia, Ecuador, Peru, Titicaca.
Volcanoes may be active. Japan- Sakurajima, Kirishima. Indonesia- Bromo, Semeru, Soputan. Fuego, Momotomba, Kilauea.
Location confidence = low.
SW Pacific locations may be added.
The period may be extended.

Update. 16 February 1030NZST.
16 February. Tonga 5.9, Northwest of Auckland Island 6.2
Vanuatu, Santa Cruz Islands, Fiordland are added to Mag 6+ risk areas.
Quakes arrived on cue today and Aotearoa is in the zone again.

Update. 17 February. 1100NZST.
16 February. Peru 5.4
Global quakes have been largely quiet last day. Target area Peru was the largest along with Tonga and south of New Zealand.
The forecast outlook for the period turning volcanic may still prevail.
Nicaraguan volcanoes Masaya, Cerro Negro, Momotomba, Telica and Guatemalan volcano Fuego seem to be ready to erupt.
Indonesian volcanoes are also hot, Bromo and Semeru are giving ash eruptions. Sinabung continues erupting.
No data for Japanese volcanoes.
The forecast period will be extended.

Update. 18 February. 1300NZST.
18 February. Molucca Sea 6.1
Excellent location hit.
The Pacific is under heavy pressure.
Big quakes are not keeping up with the the strong and ongoing quake driving conditions.
The possibility for the period to go volcanic still exists.
A new date for the end of the forecast period will be posted tonight.

Update. 18 February. 2300NZST. (from Facebook/Roary Arbon)
The forecast period is extended to 23 February.
Quakes may be stronger near the end of the period.

Update. 19 February 2300NZST.
Ambrym is added to possible volcanic eruptions.
Quakes dropped back today in the Pacific.
Aotearoa was the most active area.
Quakes are anticipated to build again from 21 February.

Update. 20 February. 2200NZST.
20 February. Southern Peru 5.0
Northern Honshu, Hokkaido, Hindu Kush are added to Mag 6+ risk areas.
Quakes were quiet today, meeting the forecast profile.
Volcanoes showed some movement. Momotombo became active.
Quakes may start to build tomorrow toward the end of the period.
The period may still go volcanic.

Update. 23 February 1330NZST.
22 February. Kaikoura 5.0, Chile 5.9
Fiji, Izu Islands are added to Mag 6+ risk areas.
Quakes have been easing today.
Quake driving conditions have been weakening last day.
Quakes are less frequent but higher in magnitude.
Possibility for Mag 7+ Pacifc.
Volcanoes have been quiet.

Update. 24 February 1015NZST.
Big quakes were quiet in the Pacific yesterday.
The forecast period is extended to 24 February.
All forecasted risk locations and magnitudes are unchanged.
Colombian volcano Nevado de Ruiz is the only volcano to erupt.
The forecast period may be going volcanic so watch out for another eruption from Nevado de Ruiz or other South American locations.
Possibility for Mag 7+ Pacific remains.

Summary.
16 February. Tonga 5.9, Auckland Island 6.2
18 February. Molucca Sea 6.1
22 February. Chile 5.9, Kaikoura 5.0
Molucca Sea was the only location success during the period and a good one.
Global quakes began strongly and on cue, fading later against expectations.
Northwest of Auckland Island 6.2 significantly increased the already strong quakes in New Zealand during the forecast period.
Fiordland Mag 4+ risk location was a good choice.
A Mag 4 swarm near Stewart Island justified the Fiordland increase to Mag 5+.
The Kaikoura 5.0, Christchurch Mag 3/4 swarm and other Mag 4 areas made Aotearoa the hotspot on an otherwise mysteriously quiet Pacific map.
Volcanoes were quiet. The forecast period never went volcanic.
Tunguruhua and Shiveluch were the only eruptions.
Cyclone Winston powered up to Cat 5 during the forecast period, confirming the strength of the solar driving conditions. Areas of Fiji and at least twenty people were ripped apart by the storm.
Strong Pacific quakes and eruptions seem likely during March.
Fiordland remains high risk.




Content © Roary Arbon 2013 - 2016
Website Design by Go Tech.