Aotearoa Summary. 1 March 2016 - 2 March 2016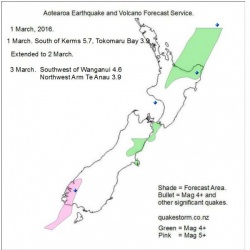 Click to Enlarge

Quake activity may increase.
Magnitude 4+ risk areas are East Cape, Bay of Plenty, Rotorua, Taumarunui, North Wairarapa, Cook Strait, Kaikoura Coast, Hanmer, North Canterbury, Christchurch.
Magnitude 5+ risk area is Fiordland, south of Fiordland.
Volcanoes quiet.

Update, 1 March 2130NZST.
The forecast period is extended to 2 March.
Moderate quake driving conditions have arrived late today and may last for a day.

Summary.
1 March. South of Kermadecs 5.7, Tokomaru Bay 3.9
3 March. Southwest of Wanganui 4.6, Northwest Arm Te Anau 3.9
Quakes have eased slightly after the Mag 4/5 Aotearoa swarm lasting nearly three weeks.
New Zealand and Pacific quakes arrived a few hours after the end of the forecast period.
Northwest Arm Lake Te Anau was posted as a big quake risk in the very active recent Aucklnd Island swarm.



Content © Roary Arbon 2013 - 2016
Website Design by Go Tech.