Pacific Summary. 1 March 2016 - 2 March 2016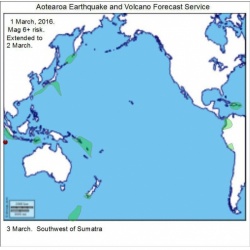 Click to Enlarge

Quake activity may increase.
Magnitude 6+ risk areas are Fiordland, South of New Zealand, Vanuatu, Santa Cruz Islands, Guadalcanal, Timor, Sumatra, South of Japan, Kuril Islands, Puerto Rico, Colombia, Southern Peru.
Location confidence = low.
Volcanoes may erupt. Tunguruhua, Momotombo.

Update. 1 March 2130NZST.
The forecast period is extended to 2 March.
Quake driving conditions have arrived late today and may last for a day.

Summary.
3 March. Southwest of Sumatra 7.8, Timor 5.6, 5.5; Vanuatu 5.0
Eruptions of Momotombo, Tunguruhua, Alaid, Suwanesojima, Telica, Nevados de Chillan.
The Sumatra 7.8 came early 3 March.
The quake was widely felt across Indonesia, Singapore, Malaysia.
Widespread damage across Sumatra but building standards there are low.
Some deaths but news is scant.
Tsunami warnings were lifted... the early warning system failed.
The sophisticated computerised early warning buoy system installed after the Boxing Day Tsunami has fallen into disrepair.
Sumatra, Timor, Vanuatu, Southern Peru fitted the forecast location profile.
Timing success was reasonable. Quakes arrived slightly late and lasted one day.
Volcanoes became active from 4 March, near the end or soon after the quake period.
Tunguruhua, Momotombo and many other volcanoes heated up.

Content © Roary Arbon 2013 - 2016
Website Design by Go Tech.