Quake Summary. 13 March 2016 - 14 March 2016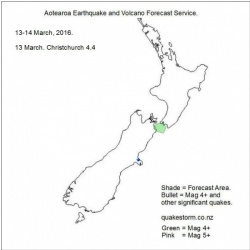 Click to Enlarge

13 March. From Facebook/Roary Arbon
Auroras were everywhere last night.
There could be quakes before a new forecast comes out late 13 March.
Aotearoa, Cook Strait, Tonga are potential hotspots.
Volcanoes have been heating for several days and quakes subdued so the new period may be volcanic...explaining the lack of quakes at the moment.

Update. 14 March 1100NZST.
13 March. Christchurch 4.4
14 March Aleutian Islands 6.3
Quakes arrived late 13 March. The Christchurch 4.4 just north of Sumner rattled the city hard.
Pacific action today near Alaska.
No detailed forecast was posted for this activity. Good timing success but no location success.
Quake driving conditions are weakening but still slightly elevated so quakes and eruptions are possible today.
A new forecast period starting 15 March could be significant for Fiordland, Northwest Arm Te Anau, Haast, Cook Strait.



Content © Roary Arbon 2013 - 2016
Website Design by Go Tech.