Aotearoa Summary. 15 March 2016 - 17 March 2016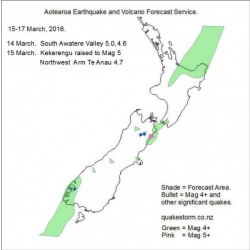 Click to Enlarge

Quake activity may increase.
Magnitude 4+ risk areas are East Cape, Bay of Plenty, Rotorua, Tokoroa, Taumarunui, Urewera, South Wairarapa, Cook Strait, North Kaikoura Coast, Kekerengu, Lower Clarence Valley, Seaward Kaikouras, South Awatere Valley, Murchison, Christchurch, Mt Cook, Haast, North Arm Te Anau, Fiordland, Snares Islands.
Volcanoes quiet.
The forecast period is likely to be extended.

Update. 15 March 0700NZST.
14 March. South Awatere Valley 5.0, 4.6 2328NZST
Kekerengu is added to Mag 5+ risk areas.
The forecast period has arrived with a roar. Christchurch to Wellington shaken.

Update. 15 March 2130NZST.
15 March. Northwest of Northwest Arm Te Anau 4.7
Two forecast locations gave perfect results at the start of the forecast period.
Northwest Arm Te Anau is the first specific location ever offered by this Service and has turned out successful.
More quake action should follow, maybe a little quieter on 16 March, building again near the end of the forecast period.

Summary.
14 March. South Awatere Valley 5.0 11.28pm; 4.6 11.36pm
15 March. Northwest of Northwest Arm Te Anau 4.7 1.09am
Quakes arrived just as the forecast was being posted on Facebook and 10 minutes later on quakestorm.
Two perfect location hits in South Awatere Valley and Lake Te Anau.
South Awatere Valley also gave the 24 April, 2015 Mag 6.2 forecast success, a "lucky" area for this Service.
Te Anau lifted Fiordland location accuracy to a new level.
Quakes then fell below the Mag 4 forecast threshold, justifying not extending the period.
The quake period then continued for several more days at under Mag 4.
The 20 March Christchurch 3.6 upset a few people there.





Content © Roary Arbon 2013 - 2016
Website Design by Go Tech.